Success Case: Entel on Twitter
Entel used Twitter to amplify its message and achieve relevance by connecting with their audience in a significant way.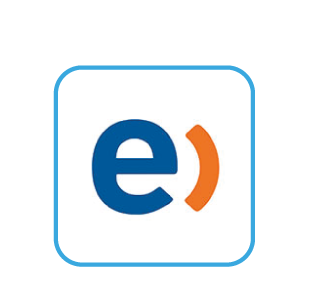 CHILE
Entel is a telecommunications leader in Chile and has the most modern infrastructure in the industry. Founded in 1964, Entel was the first Latin American company to set major milestones like being the first to install a satellite station in Longovilo in 1968. In 2001, it was also the first to offer Broadband Mobile services and in 2005 was the first to launch a 3.5G mobile phone network in Latin America. In 2011 it was the first company to reach download speeds of up to 22 Mbps.
Innovation and adaptability are key pillars of Entel, therefore, the goal is for each collaborator to challenge themselves constantly and to look for new ways of delivering a better service.

ADVERTISING REACH
–
Twitter is the selected method to transmit the

brand's messages

and be more relevant for customers.
7.3M
Customers in Chile
70%
of customers interact on a daily basis, 1 out of 2 interact more than once a day
+408K
@entel followers
CHALLENGE
_
Entel's mission is to be a leader in innovation and a role model for the telecommunications industry. Its aim is to be at the forefront of the industry either by the messages it sends or by selecting the way it communicates those messages.
In 2010, it began to include Twitter within its media plans in order to include digital platforms in the brand's evolution. Today, Twitter is no longer a mere reception device for Entel; they have built a space for interaction where a brand that is committed to what is going on in Chile significantly connects with its customers.
SOLUTION
_
Entel's Always-on Twitter strategy was designed to broaden the scope of the brand messages and convey a unique engagement through the different creative solutions offered by the platform.
Leaving behind a cold TELCO image, Entel has become a brand that is connected to Chilean reality with the collaboration of Twitter.
PILLARS OF THE

ALWAYS-ON

STRATEGY

SUPPLEMENT TO THE TV SERVICE
For Entel advertising campaigns, Twitter is a mainstream media due to its reach. The number 1 telecommunications brand in Chile has chosen Twitter to grow its messages and TV advertising campaigns.

CONNECT WITH THE CUSTOMER'S PASSIONS
One of the objectives of the brand's presence on Twitter is to promote event sponsorship such as the Santiago Marathon, the Viña Music Festival or the Chilean National Soccer Team, to create a greater emotional connection with its target audiences.

OWN THE SITUATION AND LEAD THE CONVERSATION
Twitter customers are an active audience that is highly interested in current events. Entel participates in the most important sporting and entertainment events in Chile and participates in the Twitter conversations regarding these activities to obtain an unparalleled message delivery within specific contexts.
PREFERRED FORMATS
@ENTEL SELECTS NON-TRADITIONAL FORMATS TO FOSTER CUSTOMER PARTICIPATION AND CAPTURE THEIR CONVERSATIONS.
FIRST VIEW
First view places @entel at center stage of Twitter customers to achieve maximum reach in its publications. When users log in and in the start box, the first thing they see is a message promoting the brand.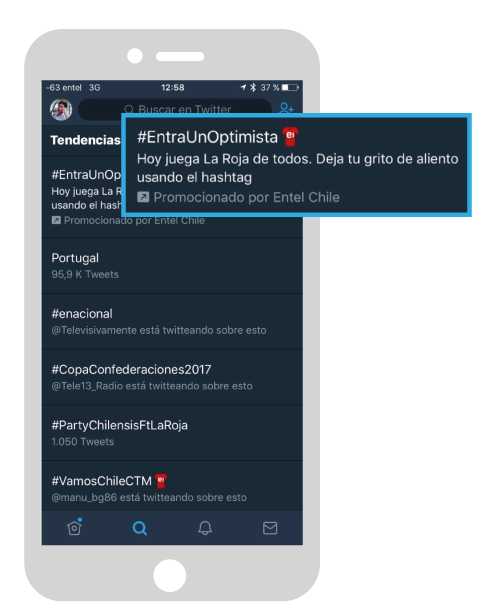 PROMOTED TRENDS
With Promoted Trends, brands can own the conversation and be in first place in the trends search. When customers use a certain hashtag, conversations are started that go beyond just a sponsored campaign, thus achieving a unique and organic engagement.

BRANDED EMOJI
@entel took hashtags to another level in several campaigns with these formats. When the Twitter community uses hashtags, an automatic emoticon pops up in the tweet, thereby spreading the message visually through the entire platform.

@entel IS NEVER OFFLINE
Going beyond relevant events, the brand has established a stable and consistent communication frequency through its Always-on campaigns.
TWITTER USER PROFILES
This is not a micro audience, it is an audience composed of millions of eager information consumers that want to establish a direct conversation with the brand.

SELECTING ATTRACTIVE FORMATS
Entel strives to be innovative when combining the different campaign formats. The selection of new formats, such as video ads or branded emojis, contributed to an increase in engagement indexes.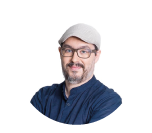 Serge de Oliveira
Head of Digital Marketing
–

Entel is the innovation leader on Twitter where we have achieved a unique consumer engagement with the Always-On strategy. It is the preferred media for expanding the brand's presence in relevant activities taking place in the countries where we are sponsors, and as such, Twitter helps us create stronger bonds with our target audience."