Case Study Tecate on LinkedIn
Cerveza Tecate surprises with the campaign "Russia will make us heroes" on LinkedIn through an innovative message.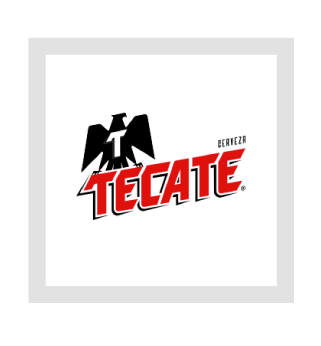 MEXICO

Created in 1944 in northern Mexico, Tecate takes its name from the city of Baja California. Since then, it has been a synonym to innovation and leadership, aiming every day to represent a united and committed community with a high quality product.
Tecate is distributed in more than 17 countries and its main markets are Mexico, the United States, Colombia and Guatemala. It is a mature, modern and aspirational brand for a socially, musically, culturally and technologically evolved society.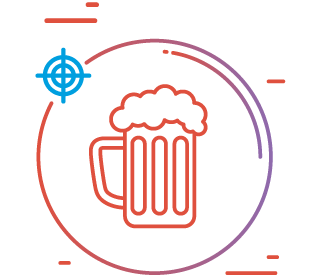 CHALLENGE
_
Tecate's main objective was to increase their brand awareness during the Soccer World Cup through its campaign "Russia will make us heroes". Their great challenge was to stand out among a large number of advertisers and messages through ingenuity and innovation.
SPONSORED INMAIL
Tecate sought to reach a professional audience with different job positions through the use of the Sponsored InMail ad format offered by LinkedIn, a platform which they never used for amplification purposes.
This format allowed them to reach users between 18 and 34 years old with Trainee, Entry and Senior level, as well as Managers, Directors and within the "Mobile Device" segment, that is, people who connect to linkedin mainly via Mobile.
The message consited on different tips to decorate their work space simulating the world cup ambience in Russia and thus, generate a greater proximity to the event. In addition, the ad's call-to-actions directed to videos of the campaign that shared the story of 6 friends who traveled to support Mexico during the World Cup, but who realized that it would be very difficult to win, so they resort to the help of Sylvester Stallone, who through his character in Rocky, had managed to be boxing world champion in that country.
–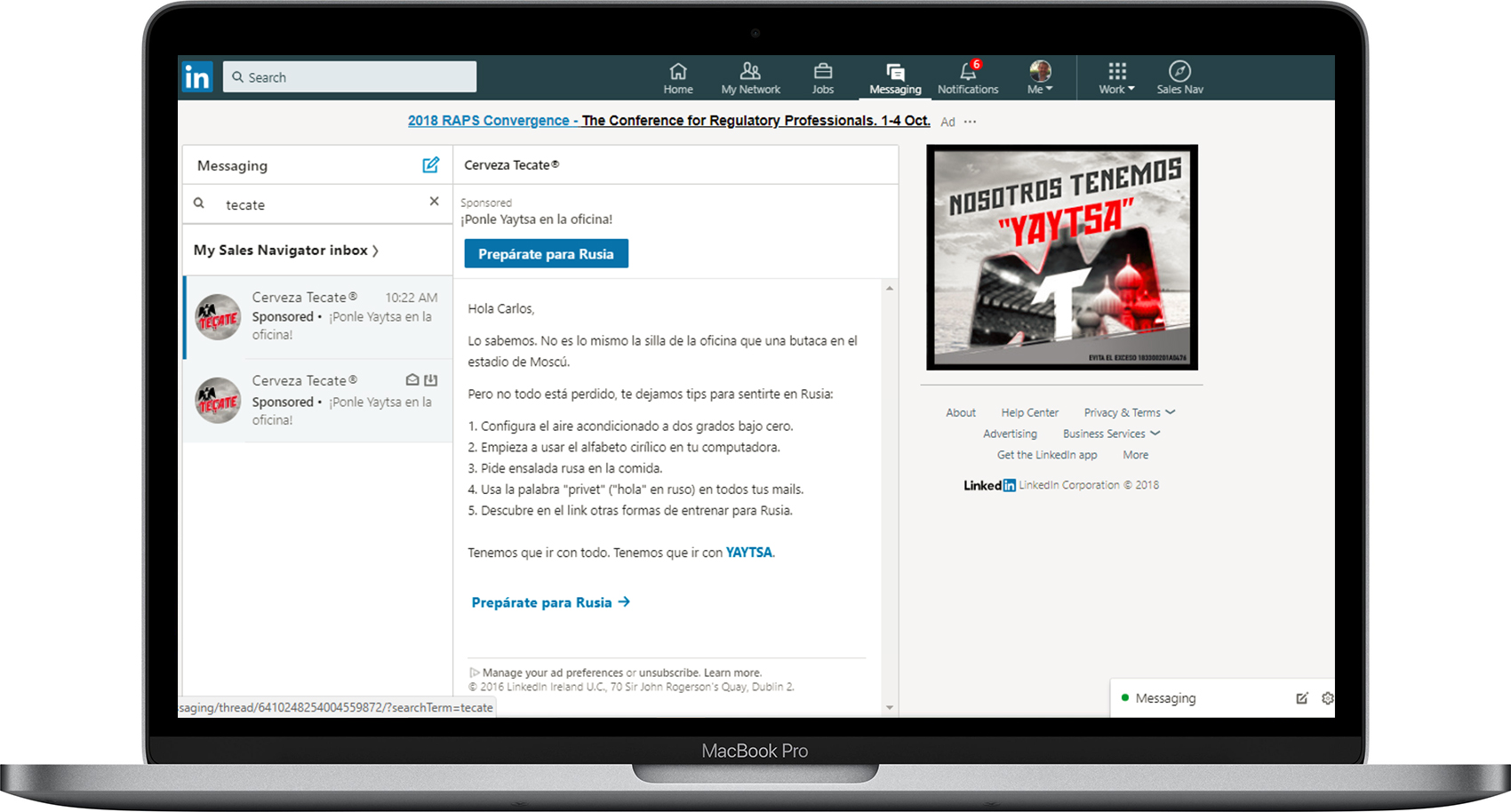 61%
OPEN RATE
BENCHMARK 50%

6,64%
CTR
BENCHMARK 5%
The campaign's creativity had great acceptance encouraging the users to share on their Twitter accounts their messages through the hashtag #YAYTSA.
KEYS TO SUCCESS
_

USE OF SPONSORED INMAIL
Tecate managed to connect with the audience through a personalized message directly to the user's inbox.

PRECISE SEGMENTATION
Using the capabilities offered by LinkedIn, it managed to reach people between 18 and 34 years old with trainee, entry, and senior level, as well as managers, directors and within the mobile users segments.

CAMPAIGN PROMOTION
The platform allowed the brand to promote its campaign during the largest sports event in the world, in a professional environment adapting the relevant content of the message and its language to the context in a disruptive manner.